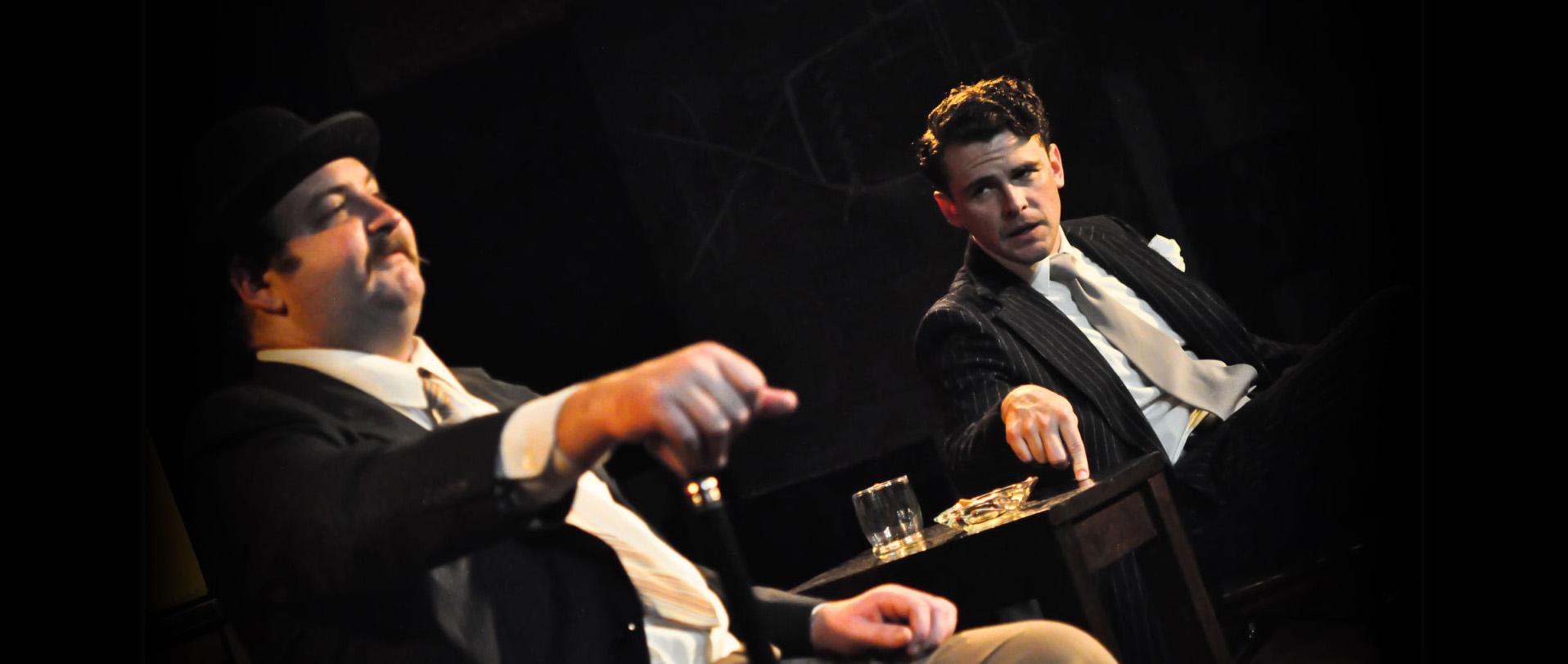 2021-22
Priscilla Queen of the Desert: The Musical
By Stephan Elliott and Allan Scott
Directed by Buffie Main and Jason Haskins
Glitz and glamour and song and dance join forces as three friends set out on an adventure of a lifetime. Based on the smash-hit movie, Priscilla Queen of the Desert: The Musical is the heartwarming, uplifting story of three friends, Tick, Bernadette and Adam. A glamorous Sydney-based performing trio, they agree to take their show to the middle of the Australian outback. Hopping aboard an old, battered bus (nicknamed Priscilla), these friends search for love and friendship and end up finding more than they ever imagined.
The Royale
By Marco Ramirez
Directed by Buffie Main and John Wicks
Jay "The Sport" Jackson is handsome, tough, headstrong, cocky, and undeniably the best Black heavyweight boxer during the end of the first decade of the 20th century. Jay grapples with the repercussions of crossing the color barrier after procuring a fight with Bixby, a white boxer, and the heavyweight champion of the world. As he prepares for his historic fight, he endeavors to conquer the label of merely a "Black boxer" and wrestles with the stigmas of living as a Black man during a racially volatile early 20th-century social ecosystem. He confronts violent, fiscal, political, and personal limitations as the reality and weight of racial tension in America becomes more transparent.
2019-20
Bernhardt/Hamlet
By Theresa Rebeck
Directed by Buffie Main
In 1899, the legendary international stage celebrity Sarah Bernhardt ventures to tackle her most ambitious role yet: Hamlet.   Ms. Bernhardt's decision to assume the title role of Shakespeare's Hamlet left critics and patriarchs aghast and indignant. Laced with forbidden romance and backstage gossip, Theresa Rebeck's new play is a behind-the-scenes look at Bernhardt's most daring role, set against the lavish Shakespearean production that could make or break Bernhardt's career. 
Music and lyrics by Jerry Herman. Book by Harvey Fierstein
Directed by Buffie Main and Joe Golden
Music Director: Chad Spears
In this beloved, award-winning musical, Georges and Albin enjoy a charmed life on the French Riviera as proprietor and star of a glitzy drag club. When their son gets engaged to the daughter of a politician, the limits of love, family, and mascara are put to the test.  In the spirit of joy, love, and a lot of laughter during the holiday season, Alley Rep. continues its Christmas Extravaganza tradition of bringing audiences a show you won't forget!
A Funny Thing Happened on the Way to the Gynecologic Oncology Unit at Memorial Sloan-Kettering Cancer Center of New York City
By Halley Feiffer
Directed by Buffie Main
"Sparks fly when the foul-mouthed Karla meets Don after their cancer-stricken mothers are assigned to the same room in the Memorial Sloan-Kettering Cancer Center. Together, Karla and Don must negotiate some of life's biggest challenges and the raw exposed nerves of when the roles of parent and child are reversed."
2018-19
The Cake

by Bekah Brunstetter (Director: Buffie Main)

Jodi Sings Judy: An Alley Rep Christmas Extravaganza

(Directors: Jason Haskins and Nick Garcia)

Indecent

by Paula Vogel (Directors: Buffie Main and Traven Rice. Live music by Fleet Street Klezmer Band)
2017-18
Bull in a China Shop

by Bryna Turner (Directors: Jason Haskins and Liberty Leeds Klautsch)

Golden Girls Christmas Extravaganza

(Directors: Joe Golden and Justin Ness)

Women of a Certain Age

by Richard Nelson (Director: Buffie Main)
2016-17
The Totalitarians

by Peter Sinn Nachtrieb (Director: Justin Ness)

Disenchanted!

Music and lyrics by Dennis T. Giacino (Directors: Buffie Main and Weston Wells Olson. Music Director Thomas Newby).

Buyer & Cellar

by Jonathan Tolins (Director: Buffie Main)
2015-16
Rapture, Blister, Burn

by Gina Gionfriddo (Director: Buffie Main)

Golden Girls Christmas Extravaganza

(Directors: Buffie Main and Justin Ness)

Vania and Sonia and Masha and Spike

by Christopher Durang (Director: Justin Ness)

Sex with Strangers

by Laura Eason (Director: Buffie Main)
2013-14
Richard O'Brien's The Rocky Horror Show

book, music, and lyrics by Richard O'Brien. (Directors: Aaron M. Kiefer and Sarah Gardner. Featuring live pit band The Green Zoo)

The Little Dog Laughed

by Douglas Carter Beane (Directors: Aaron M. Kiefer and Jason Haskins)
2012-13
Levi Middlebrooks: Back 2 Boyzee

created and developed by Jason Haskins, Aaron M. Kiefer, and Evan Sesek

Breadcrumbs

by Jennifer Haley (Director: Buffie Main)

Voices from the Boise Hole 2

by Jason Haskins & Evan Sesek (Director: Aaron M. Kiefer)
2011-12
The Farnsworth Invention

by Aaron Sorkin (Director: Buffie Main)

Voices from the Boise Hole

by Jason Haskins & Evan Sesek (Director: Liberty Leeds Klautsch)

Head

by Oliver Russell Stoddard (Director: Julia Pachoud Bennett)

In the Next Room, or the Vibrator Play

by Sarah Ruhl (Director: Buffie Main)
2010
The Good Body

by Eve Ensler (Director: Buffie Main)

Last of the Boys

by Steven Dietz (Director: Buffie Main)
2009
Love Person

by Aditi Brennan Kapil (Director Buffie Main and a co-production with East Indian Follies Theater Company)

Three Tall Women

by Edward Albee (Director: Tim Saunders)

Sex a.k.a. Weiners and Boobs

By Joe Lo Truglio, Michael Showalter, and David Wain
2008
The Little Dog Laughed

by Douglas Carter Beane (Director Buffie Main)

The Burial at Thebes

by Seamus Heane (Director Traven Rice)

Reckless

by Craig Lucas (Director Larry Dennis)