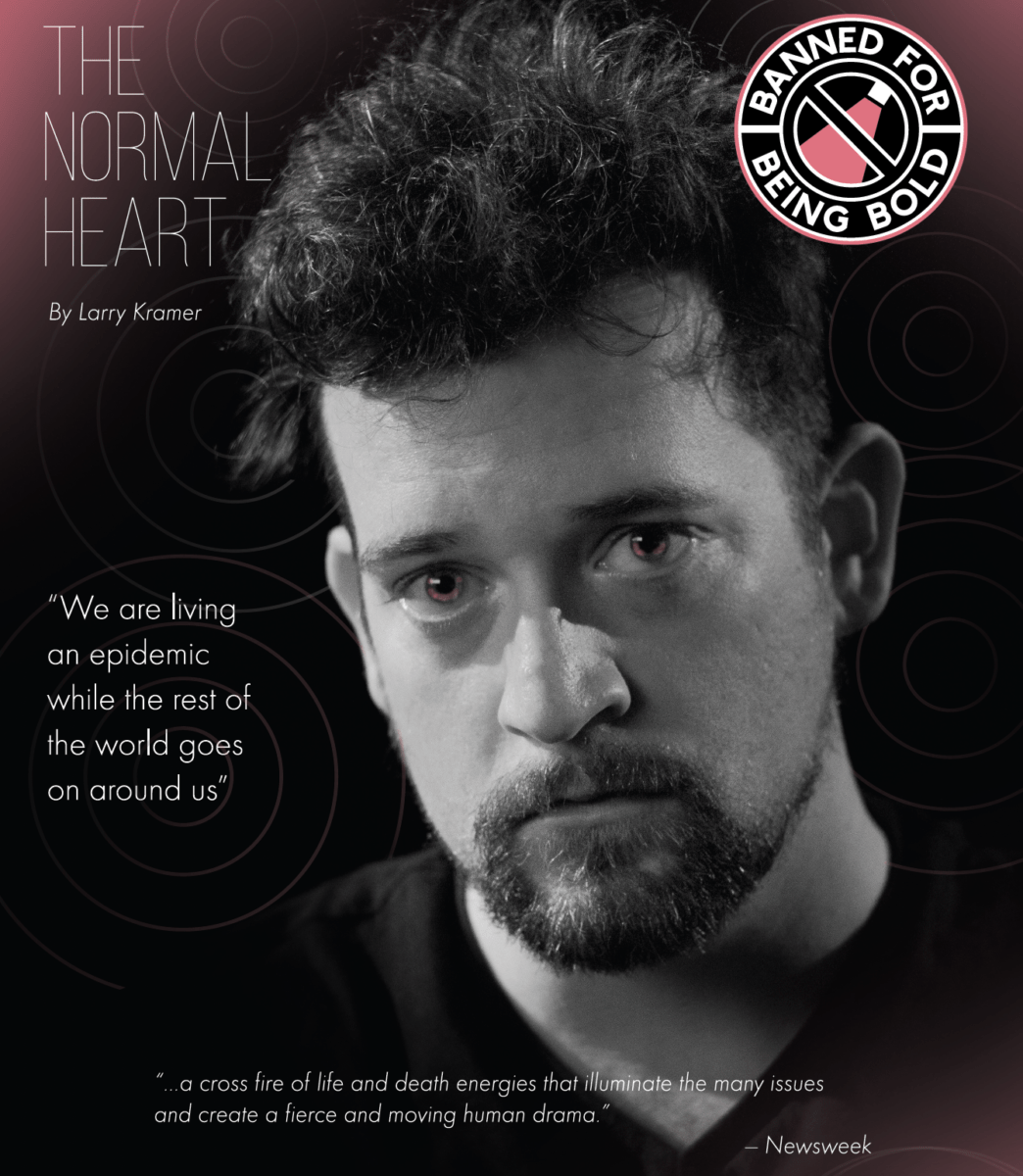 This October at Visual Arts Collective, Alley Repertory Theater presents The Normal Heart by Larry Kramer.
Exploring the early days of an epidemic, and homophobia and prejudice around infectious disease, The Normal Heart premiered at the Public Theater in 1985.
Pulitzer-nominated, The Normal Heart is set in 1980s New York and explores the impact of the AIDS endemic in the early years. A searing drama about public and private indifference to the AIDS plague and one man's lonely fight to awaken the world to the crisis. Based on Kramer's real-life experience, writer and activist Ned Weeks attempts to channel his anger at the systems in place while he fights to unite the gay community to talk about their rights to survive.
Kramer was a founding member of not one but two influential HIV/AIDS service organizations. The first, Gay Men's Health Crisis (officially now GMHC), is heavily referenced in The Normal Heart. And the second, ACT UP, was established in 1987.
Co-directed by Ben Clegg and Buffie Main, The Normal Heart is powered by a stellar cast, many of who are veterans of the Alley Repertory Theater stage.
Cast of The Normal Heart
From shows in Alley Rep's early years to appearances as recent as last season (and an Alley Repertory Theater debut), the eight cast members of The Normal Heart bring fire, passion, joy, and fierceness to the stage.
David Cowan holds a BA in Performance from Boise State University and an M.F.A. in Acting from the University of Georgia. Cowan's last appearance with Alley Rep was in 2014, in The Little Dog Laughed.
Jodi Eichelberger and Alaggio Laurino were both featured in last season's production of Cabaret. Eichelberger has also starred at Alley Rep in Jodi Sings Judy (2018), Buyer & Cellar (2017), and Priscilla Queen of the Desert: The Musical (2021), to name a few. Eichelberger also serves as the Artistic Director of Story, Story Night and Program Director at Surel's Place.
Laurino is a graduate of Boise State University with a double major in studio art and art history. This will be Laurino's eighth queer role with Alley Rep.
David Rose returns to the stage after a ten-year hiatus and first performance with Alley Rep since their inaugural season, where Rose performed in The Little Dog Laughed.
Jovani Zambrano and Jake Atkinson are familiar faces from the 2022-23 season. Zambrano was in last winter's Cabaret and also appeared in Sweat earlier this year at Boise Contemporary Theater.
Atkinson had has Alley Rep debut in last fall's Hot Asian Doctor Husband. He most recently appeared in Idaho Shakespeare Festival's production of Dracula: The Bloody Truth.
Katie Preston last appeared on the Alley Rep stage in Bull in a China Shop (2017). Preston also appeared in BCT's production of Sweat and wrote and starred in the web series Running on Love, which premiered on Tubi in 2022.
Jeff Mercer is making their Alley Repertory Theater debut. Notable local performances for Mercer include First Date at Stagecoach Theater and Arsenic and Old Lace at Boise Little Theater.
Dates, times, location for The Normal Heart
The Normal Heart starts with a pay-what-you want performance on October 12, 2023. Opening night is October 13 with one more performance that week on Saturday October 14.
After a few days off, performances run Wednesday October 18 thru Saturday October 21. The show closes with a Sunday matinee performance on October 22.
All performances will be at Visual Arts Collective in Garden City. VAC is a 21+ venue. Weeknight performances begin at 8 p.m. and the Sunday matinee at 2 p.m. Doors open one hour prior to performance.