Alley Repertory Theater: A brief history
.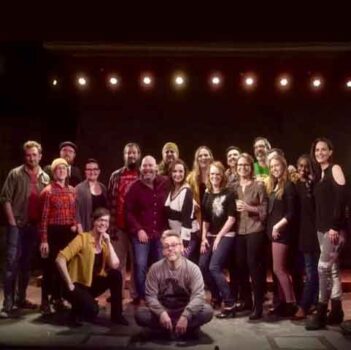 Located in Garden City's Live-Work-Create District, Alley Repertory Theater is a professional theater company and cultural leader. The company, since the start, has performed out of Visual Arts Collective, a performance venue, contemporary fine art gallery, and cultural center.
From day one, there has been a concerted effort by Alley Rep to create high-quality productions bursting with humanity. This effort has only grown and evolved over the years. With it, Alley Rep attempts to bring to the theater a communal experience a show is intended to be.
Established in 2008 under the guidance of Buffie Main and Hollis Welsh, Alley Repertory Theater began with the idea to produce innovative theater that connects professional artists and local talent with thinking audiences. A slow and steady growth has occurred since. Alley Rep has evolved as the community evolves around it, with keeping the original mission and vision in mind.
Alley Rep: The plays
Beginning with the first-year productions of The Little Dog Laughed, The Burial at Thebes, and Reckless to Priscilla Queen of the Desert: The Musical and The Royale in 2022, Alley Rep has consistently tackled productions with a wide range of themes. Over the years, Alley Rep has committed to working intentionally and rigorously to break down barriers to creating and making inclusive theater—including those based on race, gender, sexuality, ability, and economics.
From well-known musicals to Pulitzer Prize winning plays, Alley Repertory has produced over 30 different shows. Previous productions have aimed to entertain, educate, tug at the heart, bring joy, and even make the audience want to get up and dance (a little). This includes productions of original works by local playwrights (Head by Oliver Russell Stoddard. The Voices from the Boise Hole series and Levi Middlebrooks by Evan Sesek, Jason Haskins, and Aaron M. Kiefer) and a play reading series that provided playwrights the opportunity to grow their play(s) with staged readings and workshops. Through it all, Alley Rep aims to work with artists, designers, and performers in all stages of their careers. This ranges from first-timers getting their feet wet to the seasoned vets.
Led by Artistic Director Buffie Main, the mostly volunteer staff at Alley Rep has expanded. As of May 2022, seven dedicated members and two valued resident designers lend their expertise and time to the company. Countless others over the years have helped contribute to the growth of this theater company. This includes dedicated board members – past and present – to artists and designers who have passed through the rehearsal hall. Along with a proud and supportive community, all have helped Alley Rep grow over the years. And it is with great hope the theater continues to do so even more in the coming years.