Alley Rep 2022-23: Powered by the times in which we live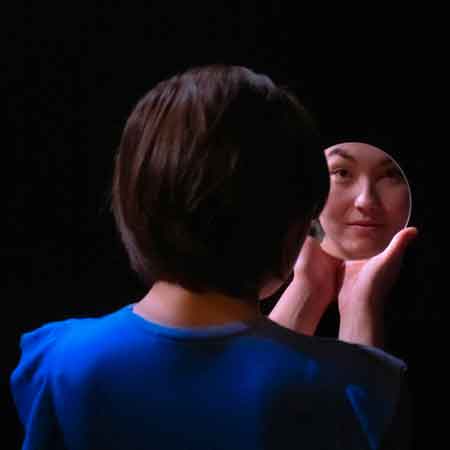 Intimate and electrifying, Alley Repertory Theater's 2022-23 season mixes exciting new works that explore current issues with classics that remind us how today's headlines came to be. Political and provocative, joyful and heartfelt, hilarious and challenging; in a time when the world is changing forever, these are stories not often told – or that cannot be told enough.
ELECTRIC, PASSIONATE, FUNNY, and FREE to BE, Alley Repertory Theater invites you to PLAY FIERCELY.
Hot Asian Doctor Husband
You've been looking at men for love. But that was the wrong place.
In the dead of winter, at the Cherry Blossom Garden, we meet Emi a multiracial Japanese woman lost and confused in grief and cultural expectations. Just a few months ago, Emi knew exactly what she wanted and got it: A Hot Asian Doctor Husband.
On paper, he was the perfect candidate for Emi, but she pays the cost when he turns out not exactly as she imagined. Suddenly her ancestors, her legacy, and culture are all at stake. This hilariously contemporary and honest play explores the multi-racial experience. Lost in between her personal responsibility to carry on the culture passed down from her Japanese mother and her inability to control the cultural identity of the one she loves; this wry, award-winning play by Leah Nanako Winkler is a coming of age story beautifully woven with humor, emotion, and memories.
Beginning October 13, 2022. Click for dates and ticket info.
Cabaret
IN HERE, LIFE IS BEAUTIFUL
Based on the play by John Van Druten and stories by Christopher Isherwood
Music by John Kander. Lyrics by Fred Ebb and Book by Joe Masteroff
In a world where inexplicable ways can get you down, the Cabaret is one place where everyone can be free. This December, you're invited to The Kit Kat Club, where it transforms VAC as it's never been seen before.
In a decadent Berlin nightclub, as the 1920's draw to a close, a garish Master of Ceremonies welcomes the audience to forget all their troubles at the Cabaret. With the Emcee's bawdy songs as wry commentary, Cabaret explores the dark, heady, and tumultuous life of Berlin's natives and expatriates as Germany slowly yields to a second World War. While the world unravels outside, in the Cabaret, life is beautiful.
Cabaret is a fierce, meaty musical that pushes the boundaries of the form and literally holds "the mirror up to nature", with musical numbers that include the classics "Willkommen," "Cabaret," "Don't Tell Mama", "Maybe This Time", and "Two Ladies." Cabaret is a 12-time Tony Award-winning musical, taking home eight in its original run in 1967 and four more in the 1998 revival.
"One of the great Broadway musicals of all time – an exhilarating harrowing masterpiece." – Time Out New York
Beginning December 8, 2022. Click for dates and ticket info.
In the Next Room (or The Vibrator Play)
Climax, paroxysm, excitement, gratification, orgasm; also known as female hysteria.

By Sarah Ruhl
In the waning years of the 19th century, a ground-breaking physician treats the "hysteric" needs of his female patients while overlooking domestic discontentment of his bored, and lonely wife. An examination of female sexuality and autonomy, this historically accurate comedy navigates love and marriage. And the remarkable origins of electrifying medical treatments for women.
A show that will make you laugh as much as you blush, this Pulitzer nominated play explores sexual awakening and desire, while confronting questions of female sexuality and emancipation.
Beginning March 2, 2023. Click for dates and ticket info.
Looking to save money on tickets? Take a look at our Alley Fan Pass packages and do so quickly because these discount packages are only available until October 12, 2022.